Why Angus?

Here is a typical B55 daughter and her calf pictured as a 7 year old cow.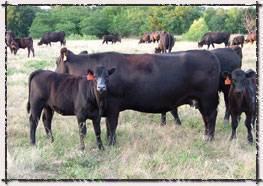 This is a cross section of our Angus herd on summer pasture.

When we started our herd in 1979, we had 80 acres of pasture and no cattle. Kim had shown steers of nearly every breed available through 4-H and FFA. When Dad asked me what I was going to do with the pasture I informed him that I wanted to start a permanent herd. In the past we had put steers on grass before putting them in the feedlot and run short-term cows. When asked what breed I would choose I replied that of all the breeds available, each had something to offer. No matter what direction I may choose, starting with good Black Angus cows seems the best option.

We started out with registered black cows for the purpose of having true F1's no matter what direction we pursued. In the fall of 1978, two large dispersions were held in Oklahoma. We bought females from both sales with the majority of our present herd going back to the Ankony dispersal. Most of these cows were daughters of Ankonian Dynamo, Ankonian Applause, Emulation 31, Big 70 and Little 70. Most of the females purchased were near market value. One particular heifer was purchased at a premium, $300 over the average. Her descendants make up our largest cow family today. At that point we AI'd these cows Angus and followed with crossbred bulls. After several years we sorted the best cows out for not only AI purposes but to use a registered bull on them and keep them as a separate registered herd.

Each year we go to Denver to find cattle that can walk, have some length of rib, and real muscle, not fat. The perfect bull has not yet appeared on the scene and no one bull will meet every need in every cow herd.

Our current goals include producing cattle with carcass traits without giving up pounds or fertility. No bull is truly complete unless his sons are dominant and his daughters are productive. Bulls who have done that in the past for us include Krugerrand 2293, or B55 as he is known, Pfred, and Connealy Forefront. Their daughters are doing most everything well, producing big calves, keeping their condition, and breeding back AI .On our" About Us" page you can read about the overall balance of the performance demands we make on our cattle by viewing our 5-year averages.

Today we still use predominantly AI and home raised herd bulls from our AI program. A typical calf crop will be 75%-85% AI sired. Come see our 2020 calves Sired By Lefty, EXAR Monumental, Byergo Black Magic, Mill Bar Hikok, DL Sonic, Active Duty, Koufax, and Back Haul.

Joining these sires for our 2021 arrivals include; Roseda Powerball, Mogck Entice, Hoover Know How, and Connealy Emerald.