Why Red Angus?
When the first S Diamond red calf was born in 1989, by the mating of Lone Star on a cow that obviously was a red carrier, I had no intention of keeping her. However I was not going to let someone else have her at a discounted price. She was an excellent Angus female that happened to be red. I went ahead and registered her but was not at all prepared for what happened next. In the Red Angus sire summary all members are listed, and my phone began to ring with requests for a list of bulls for sale. When I asked them why they were looking for red bulls, they told me that by buying red bulls they could get Angus genetics without the risk of getting gray calves from their multi-colored and varied breed cow herds. I had found a niche, so we pursued it.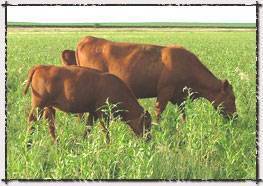 I had visited with several Red Angus breeders on my trips to Denver and decided to call on Ron Peterson. He was in the process of calving and moving at the same time and needed some extra money to cover his moving costs. Moving an entire working ranch 250 miles is no picnic. He allowed me to look through all his pairs and price them. We brought home 10 pairs, seven with heifer calves. That group still makes up 6 of our 15 cow families and when Ron had his dispersal in 2000 we added 2 more cow families and added a female to one of our existing cow families. Four more of our cow families came from Whythill Red Angus, the John Krull family, of Grundy Center Iowa. We met them at the Walter Larson dispersal, one more cow family, and did business on the way home.

All of our breeding philosophies are the same in our reds and blacks, partly because they are all Angus. Each year we go to Denver to find cattle that can walk, have some length of rib, and real muscle, not fat. The perfect bull has not yet appeared on the scene and no one bull will meet every need in every cow herd.

Our current goals include producing cattle with carcass traits without giving up pounds or fertility. On our "About Us" page you can read about the overall balance of the performance demands we make on our cattle by viewing our 5-year averages.

Today we still use predominantly AI and home raised herd bulls from our AI program. A typical calf crop will be 75%-85% AI sired. Come see our 2020 calves by Gold Bar, Deep End, 9 Mile Darkhorse, 9 Mile Franchise, Detour 6Z, Weber Maxed Out, JD Deliverance, Viking, Grumpy and Face Card.
Joining these sires for our 2021 arrivals include; Feddes Brunswick, RRA Aviator 502 and 507, Acclaim and Gaston.